Weds. lame duck session sees changes to Line 5 tunnel plan, campaign finance oversight, and more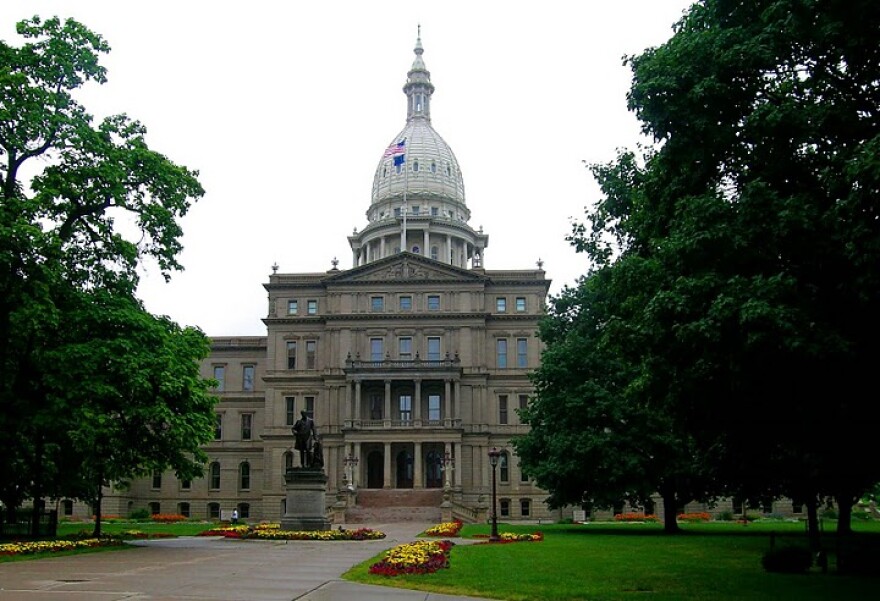 So many bills, so little time.
It was another busy day for legislators in Lansing as Republicans try to push through as many bills as possible before the end of the term. Bills covering education, Proposal 3, PFAS, the Line 5 tunnel, and many more items got another step closer to the governor's desk.
Here's a round-up of the major moves the Legislature made Wednesday:
Bills to shift campaign finance power from Secretary of State to commission pass committee
Republicans in Lansing want to take away some of the Secretary of State's oversight powers. A state Senate committee passed multiple bills Wednesday. They would create a commission to oversee campaign finance matters – instead of the state's top elections official.
Craig Mauger is with the Michigan Campaign Finance Network. That's a watchdog group that tracks campaign spending. He says a big concern is that the committee would be made up of three Republicans and three Democrats.
"I mean, it's just unlikely that they're going to be able to reach across the aisle and agree on things in order to enforce the campaign finance laws. And if there's no enforcement, the law basically has no meaning," says Mauger.
Supporters balk at accusations that this is an attempt to strip power from the incoming Democratic Secretary of State. They insist this commission is modeled after the Federal Election Committee.
New pipeline tunnel oversight plan passes through state Senate
A three-person commission appointed by Governor Rick Snyder could oversee a controversial oil and natural gas pipeline housed in a proposed tunnel under the Straits of Mackinac.
Enbridge Energy currently owns the controversial Line 5 pipeline. Snyder recently announced a deal with Enbridge that requires the company to pay for the tunnel and new line. That's so the decades old Line 5 section that runs under the Straits can be shut down and replaced with a new section of pipeline.
Senator Adam Hollier (D-Grosse Pointe) was the lone Democrat who voted in favor of the bill. He said, like many, he's worried about a spill from Line 5.
"Building this tunnel, which is a $500 million investment in Michigan, will prevent that," says Hollier.
Opponents say Line 5 needs to be shut down right away – but the plan to build the tunnel could leave the line in service for a decade.
Editor's note: Enbridge Energy is a corporate sponsor of Michigan Radio
State House passes court intervention bill that limits power of Attorney General
The state House has approved a hotly contested bill that would limit the power of incoming Attorney General Dana Nessel. The bill would allow the Legislature to intervene in any court proceeding. During a committee hearing Tuesday, four protesters interrupted the hearing to oppose it.
Michigan House Representative Rob VerHeulen (R-Walker) is the bill's sponsor.
"The purpose of this bill is to provide a tool for the Legislature, regardless of which party controls to, for it to have a voice necessary to provide the Constitutional responsibilities imposed on this body."
The bill would enable the GOP to protect laws enacted when Republicans were in control of all branches of state government. It now goes to the state Senate.
State House panel holds first hearing on PFAS contamination
A House panel met to discuss the state's response to PFAS chemical contamination. Until now, state lawmakers have had no hearings on contamination at several sites across Michigan. Environmental and health groups do not agree with state regulators about how much PFAS is safe in drinking water.
State Representative Gary Howell (R-Lapeer) is the chair of the House Natural Resources Committee. He's considering whether to set a new drinking water standard for PFAS chemicals.
"I need, again, some scientific basis," says Howell. "I'm not going to pick a standard out of thin air. I'm going to be very careful to make sure that we have adequate scientific testimony, adequate scientific basis and studies to pick an intelligent standard."
Howell says the committee will likely resume hearings at the beginning of the new year to learn more about the status of PFAS contamination in the state.
State Senate passes redistricting commission bills
Legislation that would add definitions and create penalties in the state's new voter-initiated redistricting law made its way through the state Senate Wednesday.
Voters passed a measure to create an independent redistricting commission in November. Now lawmakers say there are clarifications that need to be made. Senator Phil Pavlov (R-Port Huron) is a bill sponsor. He says these are not major changes.
"This does not in any way affect the voter approved constitutional amendment, Proposal Two," he says.
Opponents say the Legislature should not pass any legislation that impacts the redistricting proposal. They say a lame duck session isn't enough time to get it right – and it should be left up to the next Legislature.
Bills to shape voting ballot initiative pass Senate committee
Republicans are moving forward on efforts to shape a ballot initiative that passed during the midterm elections. Proposal 3 made numerous changes to Michigan's election laws – changes supporters say will make voting easier and more accessible. Senate Bills 1238, 1239, 1240, 1241, and 1242 would modify the proposal.
But lawmakers say there were holes in the proposal and details that need to be ironed out so the proposal can be implemented.
Senator Mike Kowall (R-Oakland) is a bill sponsor.
"We must codify certain procedures to ensure the integrity of the election process as we implement this into law," he says.
The main problem opponents have with the bills is that they say they're moving too quickly – and without sufficient time to review the legislation. They say there's plenty of time to make any clarifications to the measure next year.
Bill slammed as anti-union quickly passes through Senate committee
Lawmakers in Lansing want to make public employee unions vote on their bargaining representatives every two years. A bill that would require this to start in 2022 passed a Senate committee Wednesday.
It's a move that union groups say would cause "chaos."
Stephanie Glidden is with the Michigan AFL-CIO.
"These votes will merely serve to distract workers from the important jobs that they perform every day. Our members just want to work hard and they do, for their communities, for their families. And this is simply an unnecessary workplace burden," she says.
Senator Arlan Meekhof (R-West Olive) is the bill's sponsor. He says this would just treat unions the same as private companies.
State Senate approves bill that would tie state regulators' hands on PFAS limits
The state Senate has approved a bill that could make it difficult for state regulators to set stricter limits on PFAS contaminants in drinking water. The bill would prevent state agencies from making new rules that are stricter than federal standards. That would not apply to rules made to deal with an emergency.
Sean McBrearty is with the environmental group Clean Water Action.
"If this bill goes through, it will likely prevent the Michigan Department of Environmental Quality from setting a lower, more protective limit on PFAS before the EPA gets around to it," he says.
The state House still needs to approve changes made in the Senate. Governor Rick Snyder vetoed a similar bill in 2011, saying it would make it too difficult for the state to protect the environment.