Detroit pays final respects to Congressman John Conyers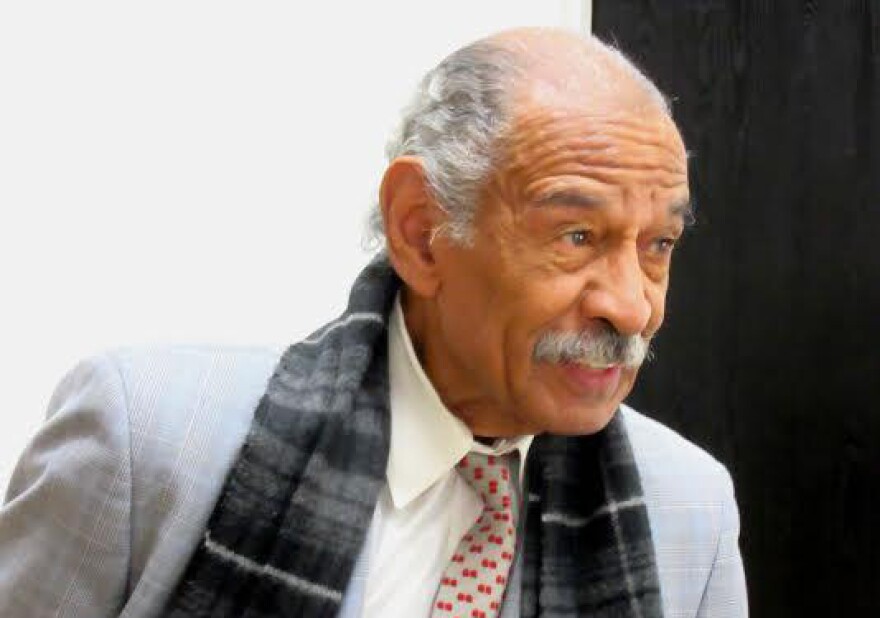 Pillar of the civil rights movement. Champion of the underdog. Fighter for Detroit.
That's how people who attended the late Congressman John Conyers' public viewing this weekend say they'll remember him.
A steady stream of people waited in line to pay their last respects to Conyers in the rotunda at Detroit's Charles H. Wright Museum of African American History on Saturday and Sunday. They quietly filed by Conyers' casket, where he lay with a folded American flag and the emblem of his fraternity, Kappa Alpha Psi. His wife, Monica, was there, surrounded by flower arrangements honoring Conyers as a loving husband and father. A jazz soundtrack provided quiet background music. Conyers was a huge jazz lover and aficionado.
Retired Judge Theresa Doss came to pay her respects. She met Conyers in the 1960s, and worked on some of his early Congressional campaigns. Conyers was first elected to Congress in 1964.
"I always admired him. He was strong, but he did have a quiet spirit about him," said Doss, who says she'll remember Conyers as a fighter for civil rights and racial equality during his more than 50 years in the U.S. House of Representatives.
"Every generation has got to get out there and fight. So he did his part," Doss said.
Robert Sisler says he worked with Conyers as a friend and ally on one of the Congressman's signature issues, Medicare for all. Now that the issue has gained more mainstream traction, Sisler says it's important to remember that Conyers "was the one who kept the seed planted."
"One of the things that he always said to me, was that everything is interconnected," Sisler said. "If you take care of people's health care, other things will domino from that. If people recognize they have that right to health care, it'll help.
"Because when people feel they're part of something, they engage in the society. That's what he always preached. These things are always are all interconnected."
As the nation's longest-serving Black Congressman and a founder of the Congressional Black Caucus, Conyers was hailed as a pioneer among African American politicians.
But his concern for civil rights and justice extended to other groups, including the American Muslim community. Mohammed Alam, head of the Muslim American Political Action Committee, called Conyers a "hero" and "our brother."
"As a Muslim American, always he was there. Especially after 9/11, he saved us," Alam said. "He put his wing beneath our community. We dearly are going to be missing him."
Conyers' easily won re-election many times, despite the shifting boundaries of his Detroit-centered district and, in later years, his wife Monica's troubled tenure on the Detroit City Council, which ended in a conviction for bribery. His long tenure in Congress ended in late 2017, when he was forced to step down in the face of multiple sexual harassment allegations from former staffers.
But Conyers—who died Oct. 27th at age 90—leaves a massive legacy. His Monday funeral at Detroit's Greater Grace Temple is expected to draw dignitaries from the political world and beyond, including former President Bill Clinton, Rev. Jesse Jackson, former Congressional colleagues and jazz and gospel musicians.