After upset in the 2016 Democratic primary, can Bernie Sanders win Michigan again?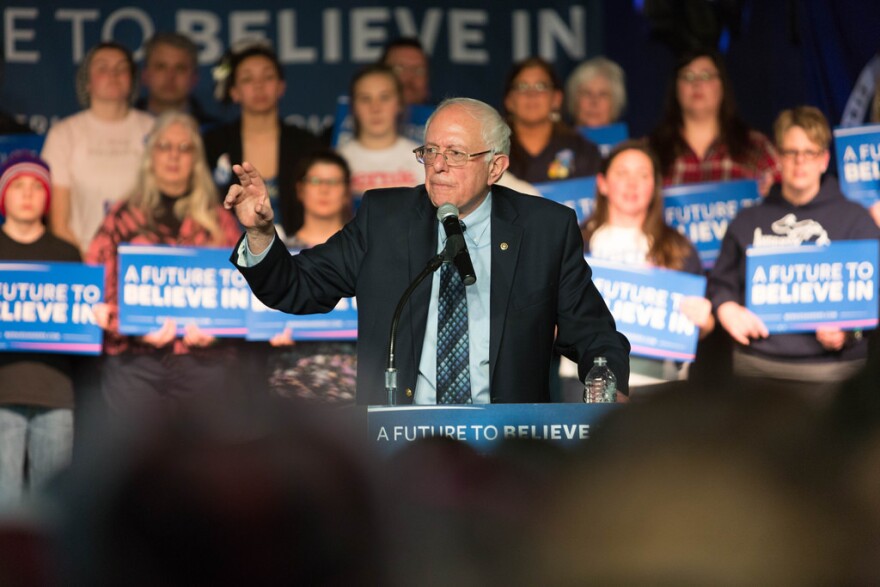 In 2016 voters in the state of Michigan shocked pollsters when they elected Vermont Senator Bernie Sanders as the winner of the Democratic presidential primary. Secretary of State Hillary Clinton was favored to win Michigan according to most polls ahead of the primary. Now, the question is: will Sanders' momentum following his recent successes be enough to secure another Michigan primary win amid a more crowded primary field?
Adrian Hemond, a Democratic strategist and CEO of the Lansing-based consulting firm Grassroots Midwest, and Bernie Porn, partner and president of the bipartisan research and survey firm EPIC-MRA, say that while Sanders' polling numbers are promising, Vice President Joe Biden and former New York City mayor Mike Bloomberg's campaigns can't yet be discounted.
Porn says Sanders is polling well in Michigan this time around.
"If you look especially at the fundraising that [Sanders has] been able to accomplish, I think that he's in a very strong position and is probably the odds-on favorite to go into the convention with the largest number of delegates," Porn says.
Porn says there is still time for things to shift around with the results of primaries in other states, and depending on which candidates remain by the March 10 primary in Michigan.
Hemond says a Michigan win will be crucial for the Sanders campaign's long term goals.
"Michigan's a state that Senator Sanders needs to win," Hemond says. "He won here in 2016. Any sort of strategy that… his campaign team [is] putting together is going to involve him winning Michigan to get to the number of delegates that he needs in order to be the nominee."
While Sanders was able to position himself as a progressive alternative to the more moderate former Senator and Secretary of State Hillary Clinton in 2016, this year's race is different, Hemond said, with Senator Elizabeth Warren competing with Sanders as another left-leaning candidate.
"I think that muddies the water a little bit for Senator Sanders," Hemond says. "I still expect him to win Michigan, but I don't think that he's going to get anywhere close to the same number of votes that he did last time, and with the new delegate rules, I don't know that it's going to be as important for him this time."
Porn says it's difficult to predict what would happen in the general election for president if Sanders wins the primary here but doesn't become the nominee. He says 2016 showed a lack of enthusiasm for Democratic nominee Clinton among Sanders supporters.
"A lot of his supporters sat on their hands and did not participate," Porn says, reflecting on the 2016 general election. "And [Clinton] also had a problem attracting African-American voters to the polls."
Hemond says he hasn't seen the Sanders campaign significantly target the African-American vote in Michigan, especially compared with Bloomberg's recent efforts in organizing and advertising in black communities statewide. The strategy might need to change, he says, if Sanders wins the nomination.
"The president won Michigan by about 10,000 votes in 2016," Hemond said. "Coincidentally, turnout in the city of Detroit was down by about 10,000 votes in 2016."
Both Hemond and Porn say the Michigan primary looks like Sanders' to win or lose.
"I expect him to win Michigan," Hemond says. "The question is--by how much?"