Hockey: The greatest sport, run by the dumbest people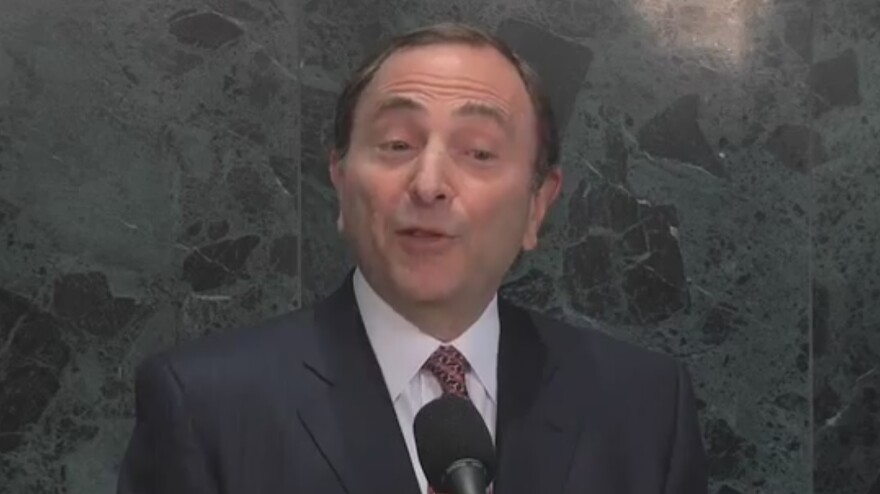 I've played hockey my entire life, so I'm biased. But when you combine ice skating, stick handling, passing, shooting and yes, body-checking, in one game, you've got it all.
Until they start playing lacrosse in the water or golf on skis, hockey will remain the hardest sport to play, and the most impressive to see played well.
There's nothing like it.
So, for Detroit Red Wings fans, the NHL lockout was a nightmare.
This started the way all these things do: the players thought the owners made too much money, and the owners thought the players made too much money. And both sides, as always, were dead right.
So the questions are hard: if both sides are obscenely greedy, who's greedier—and therefore should be slightly less greedy?
It's the kind of question that can really keep you up nights.
That's why every so-called "labor dispute" in professional sports is enough to make you throw up, and this one was even worse.
So%20the%20questions%20are%20hard%3A%20if%20both%20sides%20are%20obscenely%20greedy%2C%20who%27s%20greedier--and%20therefore%20should%20be%20slightly%20less%20greedy%3F
On one side, you had NHL Commissioner Gary Bettman, a small, whiny person widely considered the worst commissioner in sports today, and maybe ever. He was the mastermind behind the lockouts that killed the first half of the 1994-95 season and all of the 2004-05 season.
Along the way, he managed to get his sport kicked off ESPN. I think it's now on the same channel that sells realistic jewelry.
Bettman is so bad, that when he takes the ice to give away the Stanley Cup, fans from both teams boo him. Give hockey fans credit: They know a crappy commissioner when they see one.
To make the situation worse, the players union hire Donald Fehr, a self-righteous, humorless man who never smiles. You might recall him as the baseball union leader who helped cancel the 1994 World Series.
Hmmm. 1994. 1994. Where did I just hear that? Oh, that's right: the exact same fall Fehr was keeping his baseball players out of the October Classic, Bettman was keeping the hockey players off the ice.
Coincidence?
So fate had an idea! Put these two together at the same negotiating table, and see what happens!
Well%2C%20you%20can%20guess%20what%20happened%3A%20a%20game%20of%20chicken%20between%20two%20self-destructive%20morons.
Well, you can guess what happened: a game of chicken between two self-destructive morons. These boneheads did nothing but bloviate for months, while the arenas, restaurants and bars sat empty.
As my friend Ryan White said: When these teams ask taxpayers for a new pleasure dome, they say, "Hey, we're a big part of the community, like family!" But the second the owners order a lockout, it's, "Hey, this is a business. Keep your nose out, and your fingers off our brand new stadium."
Many assumed the NHL was about to kill another season, until the game was saved by an unlikely hero: Federal mediator Scot Beckenbaugh, who spent last week walking back and forth between the two camps' headquarters in New York, then made them all sit in one room for 16 hours, until they finally struck a deal at 5 a.m. Sunday morning.
Dump on the feds all you want, but if it were not for Mr. Beckenbaugh, there would be no hockey this year—and, for thousands of people, no jobs.
So they'll shorten the season from 82 games to 48. And here's the kicker: that's how many games they should play in the first place.
Which proves my theory: hockey is the greatest sport, run by the dumbest people.