Stateside: Legacy of John Conyers; labor's future after GM strike; Rachael Denhollander's new memoir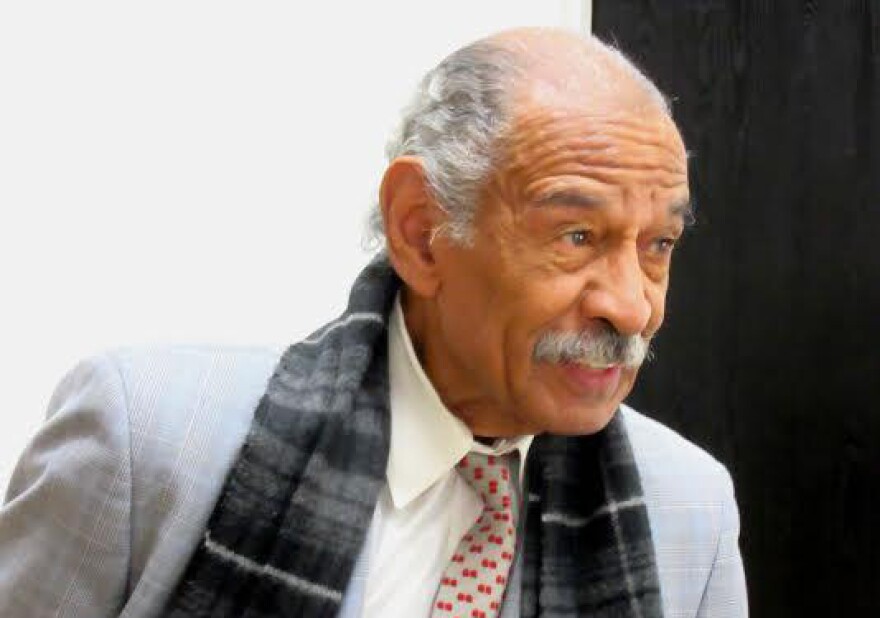 Today on Stateside, Rachael Denhollander, one of the hundreds of women and girls abused by disgraced sports doctor Larry Nassar, joined us to talk about her new memoir What Is A Girl Worth? Plus, the legacy of former U.S. Representative John Conyers, who died Sunday, in Detroit and beyond.
Listen to the full show above or find inpidual segments below.
The legacy of Rep. John Conyers is "a complicated mosaic," but ultimately an aspirational one
SS_20191028_Coleman_Conyers.mp3
Stateside's conversation with Ken Coleman
The former dean of the U.S. House of Representatives, John Conyers, died Sunday. He was 90. The congressman was known for his staunch representation of his Detroit-based district, and for withering lines of questioning during committee hearings. We spoke with Ken Coleman, reporter with the Michigan Advance, about Conyers' decades-long career in Congress, his advocacy for marginalized people in his district and beyond, and how his legacy might be impacted by allegations of sexual harassment and misconduct he faced in his last years in office.
Same Same Different: Write Your Own Narrative
SS_20191028_SSD_4.mp3
An excerpt from episode 4 of "Same Same Different"
Michigan Radio's podcast Same Same Different explores identity and how to survive "otherness" with your sanity intact. In the podcast's fourth episode, host Bryce Huffman talks to Prescott College professor Ernesto Todd Mireles and writer Morénike Giwa Onaiwu about how they were able to shed the expectations of others and define their identity on their own terms.
You can subscribe to Same Same Different on Apple Podcasts, NPR One, or wherever you listen.
At the end of UAW-GM strike, a look at the future of the American labor movement
SS_20191028_UAW_GM.mp3
Stateside's conversation with Steven Greenhouse
The UAW ended its six-week strike against GM on Friday after 57 % of its members voted to approve a collective bargaining agreement with the automaker. The deal includes pay raises, factory investments, a path to permanent positions for temporary workers, and an end to the two-tier wage system. But the company was allowed to close three plants, including the Lordstown, Ohio assembly complex.
Steven Greenhouse is a former New York Times labor reporter and the author of Beaten Down, Worked Up: The past, present, and future of American labor. We talked to him about what the strike, and the now ratified deal between the union and GM, mean for the future of the American labor movement.
Rachael Denhollander, who led a movement for survivors of Larry Nassar, writes memoir
SS_20191028_Denhollander.mp3
Stateside's conversation with Rachael Denhollander
Rachael Denhollander has become a vocal leader for a group of "sister survivors" sexually abused by disgraced sports doctor Larry Nassar. Denhollander was the first person to tell her story on the record about the abuse she suffered. She has also been outspoken in her criticism of the institutions that employed Nassar—including U.S.A. Gymnastics and Michigan State University.
Stateside spoke with Denhollander about her new memoir What Is A Girl Worth? My Story of Breaking the Silence and Exposing the Truth about Larry Nassar and USA Gymnastics. She talked about why she wrote the memoir, her continued criticism of MSU's handling of the complaints against Nassar, and the legislative changes she is advocating for in Michigan and beyond.

Stateside reached out to Michigan State University for a response to Denhollander's comments about the university's role in the Nassar abuse scandal. MSU did not respond to our request for comment.
(Subscribe to Stateside on iTunes, Google Play, or with this RSS link)