Our 2020 Michigan Radio Staff Demographic Composition Report
Michigan Radio's Statement on Diversity begins with a direct acknowledgement that increasing diversity is an existential question for the station. Our future success depends on how well we are able to grow and diversify our audience, our news sources and our own staff.
As one of many steps we are taking, we have committed to publishing an annual report on the demographic composition of station staff. This post represents the first of these reports.
The data below provides a snapshot of Michigan Radio staff as of June 2020, along with the same data for the previous year. The report presents the gender and racial makeup of both our overall staff and the senior management team at the station, and compares this makeup with that of the Southeast Michigan market (Michigan Radio's largest listening area).
We know that we have much work to do to better reflect the diversity of the communities we serve. We believe that understanding where we are - and sharing that information transparently - will enable us to better understand the work required to get us where we need to be.
Here's how that compares to the previous year.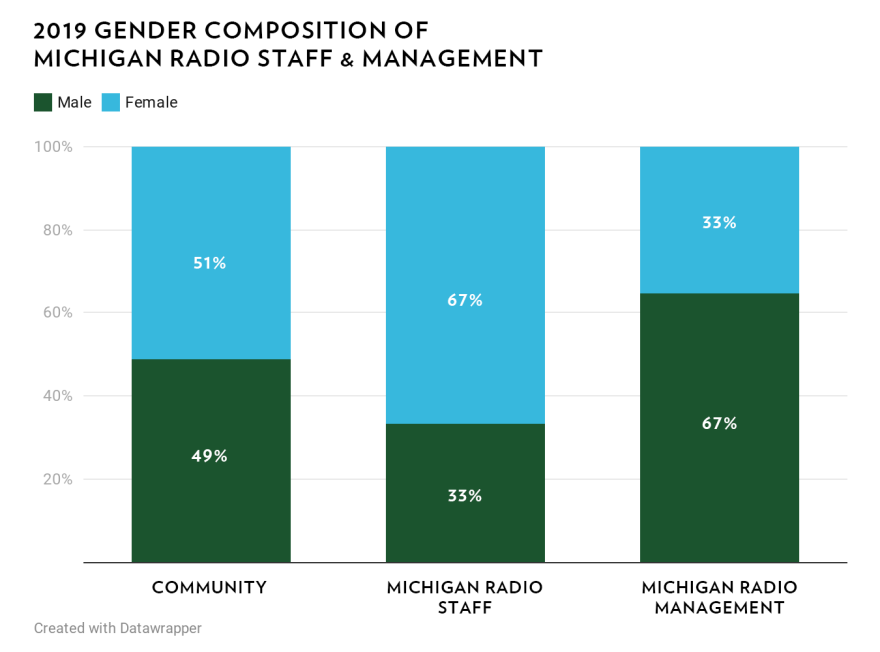 Note: Community demographic data is from the 2018 American Community Survey by the U.S. Census Bureau. Aggregated data is for the Detroit DMA market which includes Wayne, Oakland, Macomb, Washtenaw, Livingston, Monroe, St. Clair, Lapeer, and Sanilac counties. Percentages may total more than 100% due to rounding.