You relax, let the car do the driving. That's the vision anyway.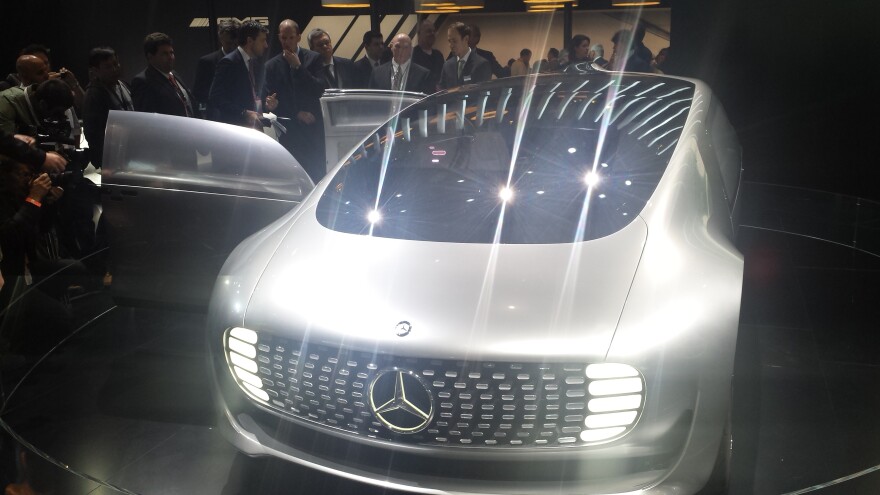 It's the vision behind the Mercedes F 015 concept car. The car was first unveiled at the Consumer Electronics Show in Las Vegas last week.
This week, the car is in Detroit at the North American International Auto Show and there are plenty of reporters/writers/bloggers curious about what the car is all about.
When you look at it, you can see that the car is a concept. I half expected RoboCop to step out of it.
Instead of a traditional car with good visibility for its passengers, the designers of the F 015 seem to be shielding its passengers from the outside world.
Less car and more transport pod.
We have cars now that have autonomous elements - cars that will park themselves or that will apply the brakes when there's potential for an accident.
But this car is designed to be completely autonomous. Mercedes says the car is part of its "City of the Future 2030+" vision of mobile living in urban centers.
From a Mercedes press packet:
The greater the advance of urbanization, the greater the desire of the individual to be able to retreat to a private space. Autonomous driving will become a given. As drivers are relieved of work and stress in situations in which driving is not enjoyable, the time gained while in their car takes on a whole new quality. Time and space will become the luxury of the future.
Here you can see how Mercedes envisions execs enjoying their time and space inside the concept vehicle at the Detroit Auto Show:
But while there have been some big advances in sensor technology and some autonomous elements of driving - complete autonomous driving is still a long way off, according to the experts - maybe even farther away than 2030.
Human error still a factor
The cars can do well in predictable situations like most highway driving. But when driving conditions change with unpredictable elements involved (pedestrians, traffic lights, changing weather conditions), the problems become much more complex for affordable computers and sensors.
Here's an example of what one auto writer from Time Magazine faced when testing an autonomous Audi on its way to the Consumer Electronics Show in Las Vegas.
At this point, the system works only on the freeway and cannot handle construction zones or areas with poor lane markings. When the car reaches a construction zone or the end of a highway, a voice orders you to take the wheel back. You've got about 10 seconds to do so before an array of LED lights goes from blue to amber, and then flashing red.
Handing the controls back to a human is where things can get tenuous. Once a car takes over, a driver-turned-passenger in the car can become quite distracted. Getting that person to focus on driving once again can be tricky.
Here's how one Stanford researcher put it in a 2013 piece by MIT Technology Review.
"The first generations [of autonomous cars] are going to require a driver to intervene at certain points," Clifford Nass, codirector of Stanford University's Center for Automotive Research, told me. "It turns out that may be the most dangerous moment for autonomous vehicles. We may have this terrible irony that when the car is driving autonomously it is much safer, but because of the inability of humans to get back in the loop it may ultimately be less safe."
The car will have to know when a human driver should take over - something that can be quite tricky to predict. And the driver would have to be alert and ready to go - a transition that could also be difficult.
So a completely autonomous vehicle would be ideal - but driving decisions that seem simple for us, are quite complex for a computer.
In MIT Technology Review, Ralf Herttwich, a researcher at Mercedes, explained this.
"Once you leave the highway and once you go onto the average road, environment perception needs to get better. Your interpretation of traffic situations, because there are so many more of them—they need to get better," he said. "Just looking at a traffic light and deciding if that traffic light is for you is a very, very complex problem."
Carmakers might be excited by autonomous vehicles based on people's willingness to accept them. As Michigan Radio's Tracy Samilton reported earlier today, researchers at the Boston Consulting Group found that 55% of people polled today say they want a partially autonomous car. And 45% said they want a fully autonomous one.
You can see why Mercedes is excited about this technology by watching the F 015 unveiling at the Consumer Electronics Show below:
http://youtu.be/vtgAx11yOzg