On this page you'll find all of our stories on the city of Detroit.Suggest a story here and follow our podcast here.
Detroit ranks third in pace of increasing walkability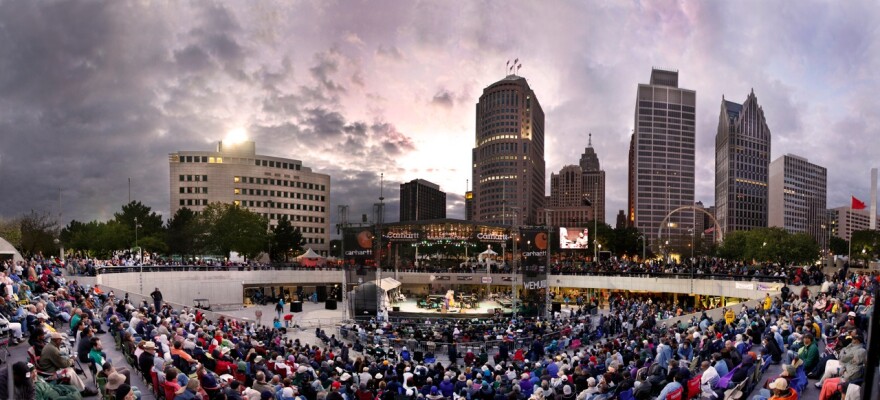 Residents of the metro Detroit area might be surprised to learn that, in a recent study, their region ranked third on the list of areas making the biggest strides toward increasing walkability. They wouldn't be the only ones.
"We were surprised, too," said Michael Rodriguez, a transit planner who co-authored "Foot Traffic Ahead," a study published by the George Washington University School of Business.
Driven by growth in what the study calls "emerging walkable urban places" like Detroit's Midtown and Riverfront areas, alongside the maturation of established walkable neighborhoods like downtown districts in Ann Arbor, Royal Oak and Ypsilanti, the region trailed only New York and Boston in development momentum.
"Metro Detroit is having a lot of growth in places like Downtown Detroit especially," Rodriguez said. "Downtown Detroit alone contributes to a huge portion."
The study measured the walkable urbanism of the largest 30 metropolitan areas in the United States, based on an analysis of rental office, retail and multi-family real estate units. Detroit ranked 21st overall in walkable urbanism, trailing a clump of rust belt cities including Cincinnati, Kansas City, Cleveland and St. Louis, which have also struggled historically to induce walkable development.
"Much of this lag is due to a historical lack of rail transit infrastructure, though all now have rail systems in the early stage of development," the study read.
Rodriguez attributed much of Detroit's urbanism boom to the under-construction M-1 rail project, which will provide 3.3 miles of streetcar service along Woodward Ave. when it opens in 2017, connecting already-walkable neighborhoods like New Center, Midtown and Downtown.
"It's big for Detroit to get where it has in terms of getting new rail service," Rodriguez said. "There's a lot of cities around the country that would be very envious of even having that much. It's important for walkable urban places to allow residents and visitors to get around, to access jobs and access amenities."
The growth in Detroit's walkability was greater than that of larger cities that have made bigger investments in transportation infrastructure in recent years, including Seattle, Los Angeles and Washington, D.C.
"It turned out that Detroit outpaced everybody in what we call the fair-share index. It's highly disproportionately taking in absorption," Rodriguez said, stressing the benefits of the rail project and increased transit service in the area.
The report concluded on an even more optimistic note, saying this momentum might be just the beginning of a continued rebound in urbanism for metro Detroit. From the findings:
While metro Detroit experienced the most substantial and well-publicized economic decline over the past decade, its future walkable urban growth is exceptionally promising. It has also experienced some of the fasted GDP and job growth of all 30 metros. Much of this growth has occurred in revived (walkable urban places) like downtown and Midtown Detroit, as well as in urbanizing suburbs like Ann Arbor, Birmingham, and Royal Oak.
The report also linked economic and educational attainment to a metro area's walkability. Detroit was also ranked 21st in GDP per capita and 20th in the percentage of residents 25 and over with a bachelor's degree (30%). The study found "that walkable urbanism's positive correlation with per capita GDP may be due it its association with educated people."
Detroit was named in a list of seven cities likely to "accelerate their evolution in a walkable urban manner."