As housing costs soar, Mich. tenants eye rent control. But there's a catch.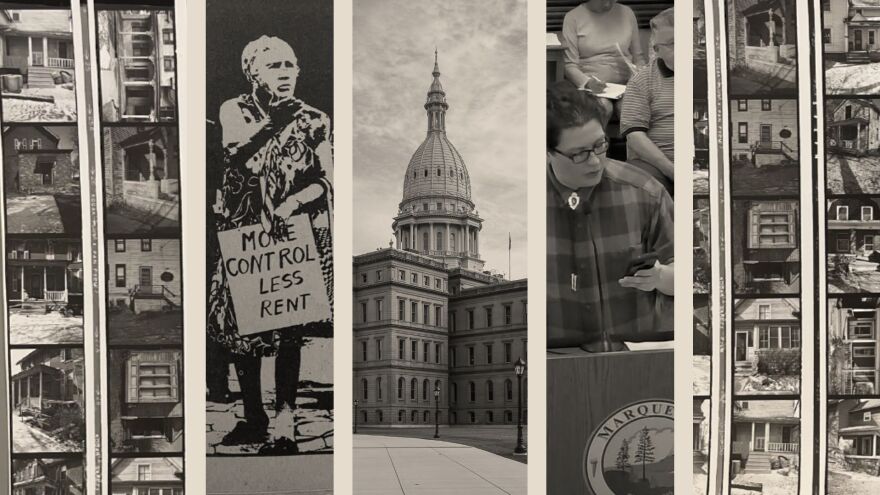 Alex Cowles has lived in Marquette their whole life. It's where they want to stay.
But Cowles is worried that rising home values are forcing artists and creative types like them out of the city.
They point to condos lining the Lake Superior shoreline, targeted at vacationers and luxury living.
"Twenty years ago, Marquette used to be cheap," they said. "I just feel like Marquette's losing its soul a little bit."
Last year, Cowles and their roommates were pushed out of their home because their landlord wanted to renovate and sell the place. Cowles and their roommates had two months to find a new home and were feeling the crunch of the housing crisis. Every listing Cowles and their roommates saw was snatched up in minutes.
And the new prices were set to devour their paychecks — it felt like every unit they saw cost almost double the rent they had been paying.
"Now you can't afford a house unless you've got like four roommates, and the houses are never very good."
Cowles and their friends, Tony Boyle and Miranda Gohlke, distributed a housing survey through Facebook groups, asking other renters: Can you afford to live in Marquette?
Within a week, the survey got 105 responses — "unheard of for our tiny community," Cowles explained. One person described their apartment getting turned into an Airbnb. A 90-year-old woman said she went without her medication in order to make her rent payment. Almost all the responses reflected a deep frustration of being unable to make it in Marquette.
Numbers back up those anecdotes: More than a quarter of renters in the city of Marquette spend at least half of their paycheck on rent and utilities, according to the 2017-2021 American Community Survey estimates.
Cowles and a group of renters took the survey results to a city council meeting last May.
Cowles told the council they've been watching the housing market in Marquette shift over the past decade.
"The people who make Marquette what it is — the people who live here full-time — not the tourists, not the corporations, not the part-time residents — the working-class people who live here full-time should be the highest priority," Cowles told the council. "You can't have a workforce without having a place for people in that demographic to live."
And in listing possible solutions to combat the housing affordability crisis in Marquette, Cowles mentioned rent control.
But there's a catch: Rent control is illegal in Michigan and 31 other states.
Here's a timeline of events from the mid- to late-1980s, when rent control was a hot topic in Michigan.
What is rent control?
Rent control is when the government limits how much a landlord can charge for a unit. Rent stabilization is when there is a cap on rent increases. As renters across the country buckle under high housing costs, rent stabilization ordinances are getting traction in states like California, Maine, Minnesota, and Florida.
In Michigan, many tenants get sticker shock when they go to renew their lease and see a sharp hike in price. It was a recurring observation in the Marquette survey results, with tenants complaining about their rents going up by staggering amounts, or having a previously included utility taken away.
"I'll get an email and it'll be like, 'My landlord just increased my rent by 20%. What law is this breaking?' The answer is like, 'None,'" University of Michigan Poverty Solutions researcher Alexa Eisenberg explained. "It's perfectly legal in the state of Michigan" for landlords of private, unsubsidized units to raise rents to whatever level they think the market will bear.
Regulation can help stabilize housing prices for tenants, Eisenberg explained, adding that a comprehensive affordable housing strategy, and legal representation for tenants facing eviction are also important safeguards for tenants. Most importantly, Eisenberg said, rent stabilization — with increases consistent with the quality of housing — can alleviate the immediate problem of arbitrary rent hikes and evictions.

Rent is eating up a bigger share of Michiganders' paychecks
A tenant is considered cost burdened if they spend more than 30% of their pre-tax income on rent and utilities. A household paying more than half its income on rent is considered severely burdened.
In a number of Michigan cities including Detroit, Ann Arbor and Grand Rapids, more than one in four renters are spending at least half their income on rent. In East Lansing, it's 48% of renters.
A report from the National Low Income Housing Coalition shows Michiganders would need to make $19.10 an hour to afford a two-bedroom unit. Michigan's current minimum wage is $10.10 an hour.

New leadership, new priorities?
In Detroit, City Council President Mary Sheffield submitted a resolution in January, urging the city's elected leaders in the state legislature to end Michigan's rent control ban.
"The lack of rent control in Detroit … contributes to the astounding number of evictions that Detroit residents experience every year," Sheffield's resolution reads, referencing a U-M study that shows evictions on track to return to pre-pandemic levels.
"Detroiters' human rights depend on adequate, affordable housing for all, but our current systems and laws governing housing have long failed to ameliorate the crisis," the resolution continued.
Thirty percent of tenants in Detroit spend at least half their income on rent and utilities, according to the 2017-2021 American Community Survey.
So far it's unclear whether overturning the ban on rent control will be a priority for Democrats in Lansing. But with the party in charge of all three branches of state government for the first time in 40 years, some housing activists hope now is the time.
"We need to give local governments back the ability to come up with policies related to rent in their own community, to figure out what works and to make sure that people can have a place to live that they can afford," state Senator Stephanie Chang (D-Detroit) said in an interview with Michigan Radio.
There have been at least five bills introduced in recent years to overturn the 1988 ban on rent regulation, and Chang has sponsored many of them.
"Housing has been a bipartisan issue in terms of development and in terms of incentivizing building new. I think that is great … (but) that doesn't necessarily address in the immediate term people's rising rents that are happening right now," Chang said.
"It's just going to get worse unless we take action sooner rather than later."