On this page you'll find all of our stories on the city of Detroit.Suggest a story here and follow our podcast here.
A youth reporter takes you inside the huddle
As summer fades into fall, another season of high school football is set to begin.
Jai'Shaun Isom is a Junior at Detroit Community High in Brightmoor.
He's spent most of the summer practicing with his team in northwest Detroit.
When he wasn't on the football field, he was in school, learning how to make this radio story:
My name is Jai'Shaun Isom. I'm 16. I'm one of the captains of the football team at Detroit Community High School. When I wasn't practicing and training for football this summer, I was interviewing my teammates and coaches about motivation, discipline and dedication.
Davia Jackson is one of my teammates. Even though this is his first year of high school football, he's got the mindset to play a man's game, and he's dedicated. I asked him what made him want to play football?
"Just to get out of the house and stay on my feet and make sure I can make it somewhere in life besides being on the streets," Jackson said.
I asked Jackson, if he got a full scholarship and became famous in the NFL, what's something he would give back?
"I'd give back to this school and the community," Jackson told me.
"I'd come back to this school and I'd give money and if coach Hump is still here, I'd come visit him everyday."
Coach Hump's full name is Del Humphrey. He introduced me to my team. Actually, now they're more like family. Coach Humphrey told me he coaches so he can give something back.
"I can recall when I was a kid, I wanted to give something back that my coaches gave me. There's a dire need in the city for prominent and proper role models, so I figure if I give back what was given to me, then I could help out."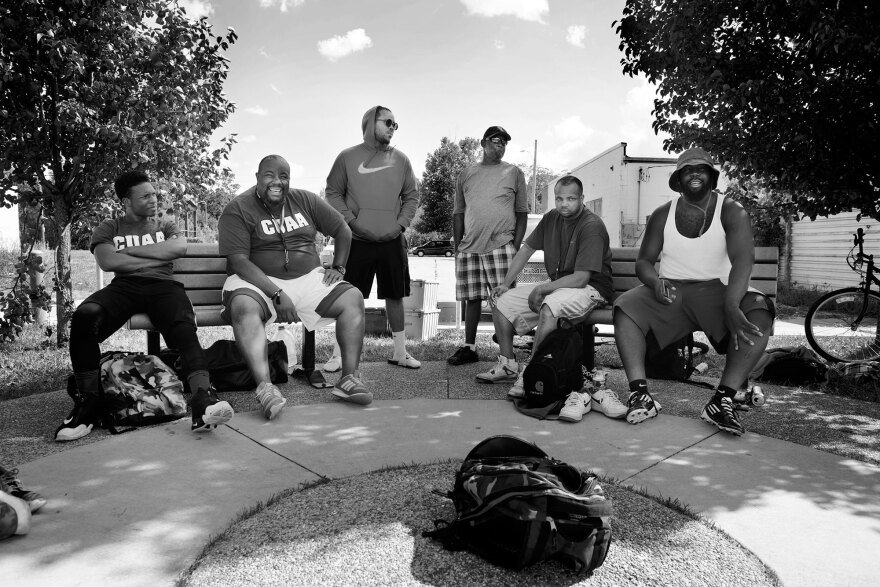 As a lineman I have to protect our quarterback. DeonBrewton is one of them. I asked Brewton what's something he would do if he were in the game and someone was talking trash?
"If it was one my teammates, I'd tell them to calm down. But if it was the opposite team, I'd just ignore them. Just clap and smile at 'em and walk away," Brewton told me.
I would do the same thing as Deon. One time there was a boy who would always joke around and say I was big, weak and slow. We would always argue, but when I started playing football, I started to look past the things he would say. Football made me look past those things because when you're on the field, other players are going to say worse things.
"Discipline is the key to it", said Coach Humphrey. "That's in anything. That's just like working. If you don't have discipline and work ethic, you cannot keep a job. You cannot maintain a relationship."
Discipline is a way of life and I've got football to thank for learning that.
The production of the story was funded by the Michele Schara Artist & Designer in Residency program at the Penny W. Stamps School of Art & Design at the University of Michigan.