North American migratory birds are shrinking; culprit could be climate change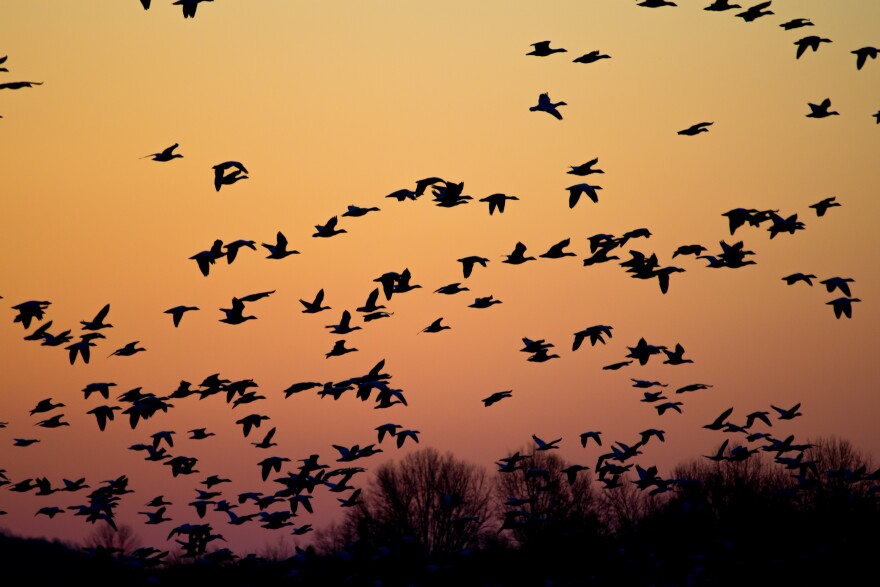 A new study out of the University of Michigan finds the bodies of migratory birds are shrinking - and it could be due to climate change.
The data was collected in Chicago over roughly 40 years. Researchers collected the bodies of birds that collided with buildings. The study uses some 70,000 birds covering 52 species as its data set.
Brian Weeks is the study's lead author. He said the data show across species the pattern is the same - bird bodies are shrinking in size. He says the fluctuations in bird body size seem to move beyond simple correlation.
"You almost always see a change in trend in temperature and then a change in trend of body size. I think it's a pretty compelling demonstration of a causal link between increasing summer temperatures and reductions in body size."
Weeks said because of the size of the data set he was able to see fluctuations in body size that follows short term temperature changes.
Birds are also growing longer wingspans so they can continue to make the migration - despite their shrinking bodies.
"Since our data are so good, we have data from every year, we're able to look not just at the long term trends in body size and summer temperature we're able to look at shorter term fluctuations," Weeks said.
"What we find is that in periods of a couple of years where temperatures increased really rapidly those periods of rapid temperature increases are followed by years of rapid body size reduction. And vice versa. Years when temperatures decline body size increases. So we see this really consistent correlation in the short term change in body size and summer temperature that really helps us move beyond the long term correlation between the two variables and really suggests much stronger support for a causal relationship between temperatures and reductions in body size," Weeks said.
Weeks said because the fluctuations are so widespread across species it suggest that birds will be less adaptable to other survival techniques - such as shifting their habitat range.
"As they get smaller it could be they are changing as quickly as they can in their body size and shape just to maintain their location and timing of natural history events," he said. "That may limit whether they are able to aggressively adapt in other ways to a changing climate."
Specifically, Weeks said it might be more difficult for birds who are adapting via body size changes to also shift their habitat ranges.
According to Weeks, without this unique data set there is almost no way the shift would have been noticed.
"We're changing the world at an incredible rate and at an unprecedented scale," he said. "The responses of the biological systems that we rely on every day can be complicated and they can be subtle."
Weeks said the study highlights the need to beef up research efforts to understand how climate change is impacting the natural world.