Weekday mornings on Michigan Radio, Doug Tribou hosts NPR's Morning Edition, the most listened-to news radio program in the country.
Remembering "KiKi" Cuyler, Michigan factory worker turned baseball star
It sounds like a Hollywood movie.
After a stint in the military, a talented athlete from a small town is working in a factory when he decides to take up baseball again. His career takes off. He becomes a World Series hero and lands in the Baseball Hall of Fame.
But it's not fiction. It's the story of Hazen Cuyler, who was born and raised in Harrisville, Michigan and played professional baseball in the 1920s and '30s.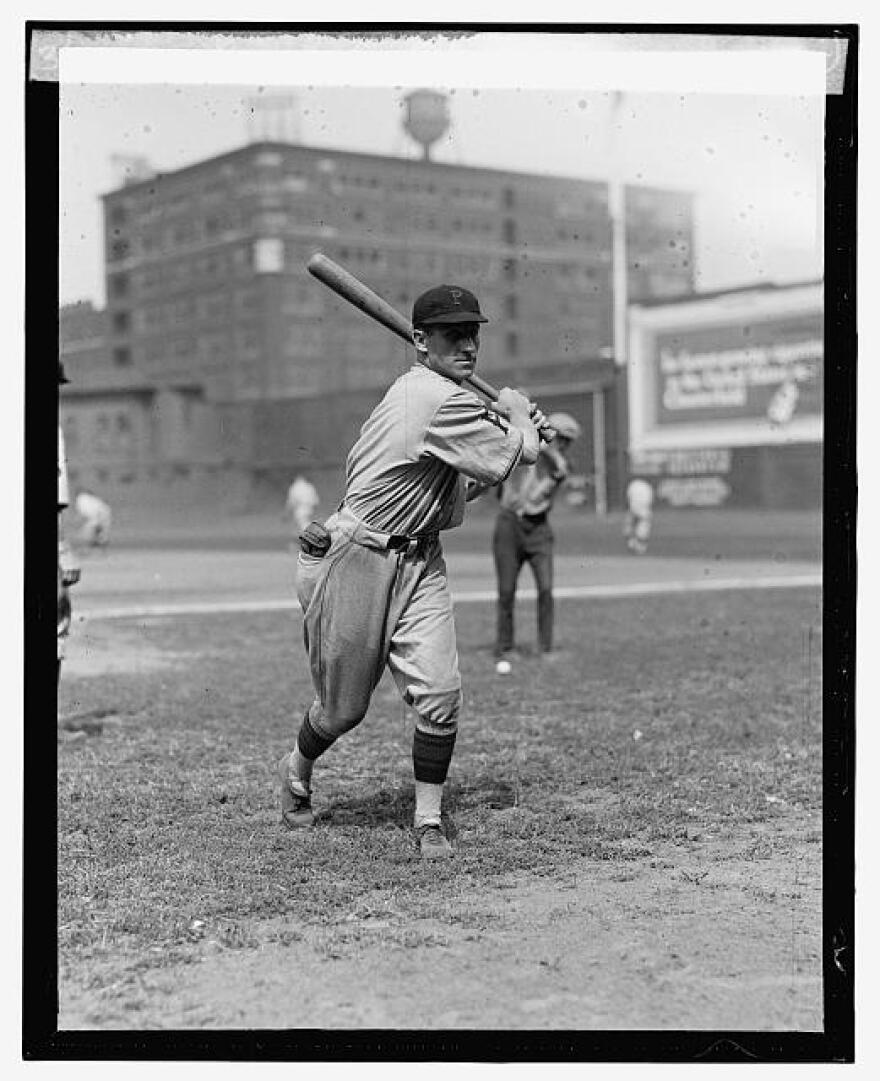 Baseball researcher and author Peter Morris wrote about Cuyler for the Historical Society of Michigan's magazine, Michigan History. He and Cuyler's granddaughter KiAnn Kruttlin joined Michigan Radio Morning Edition host Doug Tribou to talk about Cuyler's life and career.
From Buick to the ballpark
Cuyler was best known as "Kiki" (rhymes with "bye-bye"), a nickname he got growing up in Harrisville along Lake Huron in northern Michigan. By his early 20s, Cuyler had spent a short stint in the U.S. Army and gotten married. He and his wife, Bertha, moved to Flint. Cuyler was working at the Buick plant there installing car roofs.
Cuyler worked installing roofs at the Buick plant in Flint. When his hours got cut, he pursued a pro baseball contract.
"After World War I, there had been a big uptick in car sales in 1919. And in 1920, there was a short-lived six-month recession. Once people didn't have money in their pockets, they weren't buying cars. So his hours got cut off and he needed money to support his family," Morris said.
In those days, some companies would sponsor their own baseball teams, so Cuyler had been keeping his skills sharp.
"He'd been starring for one of the industrial league teams. And even though he was 22 and well past the age when most people start a baseball career, he decided to sign a professional baseball contract with the Michigan-Ontario League team in Bay City and didn't even do that well," Morris said. "He hit .254 his rookie year, but he got another shot and he was in the majors a year later."
Cuyler's batting average over his 18-year major league career was .321. And he was fast. Cuyler stole 328 bases, hit 157 triples, and earned another nickname, the Flint Flash.
Focused on fitness
Cuyler's hitting and baserunning set him on a course to Cooperstown, but for Morris something else stands out.
"This was still an era where baseball players would, as soon as the regular season ended, just eat and drink and go on 'the banquet circuit,' as they called it, and didn't really pay a lot of attention to conditioning. Cuyler was one of the few ballplayers of that era who really looked at conditioning and physical fitness as a really serious part of his profession," Morris said.
"In the off-season, he worked for the Flint YMCA, bringing in new members. But also it was a great opportunity for him to stay fit, so he was able to play until his late thirties in spite of his career starting so late. He had a long career and that's really what got him in the hall of fame, because the hall of fame is about both greatness and longevity."
A World Series hero
Cuyler began his major league career with the Pittsburgh Pirates. In 1924, his first real full season in the majors, he had a great year. Then in 1925, he had an even better one, leading the majors in runs and triples. The Pirates would go on to face the Washington Senators in the World Series.
"In the seventh game in the World Series, eighth inning, [Cuyler] comes up with the bases loaded against immortal pitcher Walter Johnson, the best pitcher of his era. Many people consider the best pitcher of all time, and he hit a double. It won the World Series for the Pittsburgh Pirates," Morris said.
Family memories
Cuyler died from a heart attack in 1950 at the age of 51. That was before KiAnn Kruttlin was born, but Cuyler remains a big part of the family lore.
"I was the first grandchild born after my grandfather died, and they put together a name," she said. "So the 'K-i' after 'Kiki' and 'Ann' after his mother, Anna. It's quite an honor."
Kruttlin's mother was Cuyler's daughter, but many of the stories Kruttlin knows about Cuyler came from her grandmother, who often traveled with him during his career. One favorite involves Kruttlin's uncle.
"He was, I believe, with Pittsburgh and hit a home run. And as he's rounding third, he looked in the crowd and he saw his young son smiling at him. And that was a big deal to him. That was one of the highlights of his career," Kruttlin said.
Kruttlin lives in Harrisville today. The population is just over 400. In his small hometown, Cuyler had reputation for being great with kids excited about having a major leaguer in the neighborhood.
"There's actually a couple of gentlemen still living that did this. They would come to the yard and watch the house when he was in town and he would come out and either say, 'Hey, boys, I can't do it today,' or he would go out and play baseball with them," Kruttlin said. "I listened to a couple of those gentlemen talk about it, but you can imagine how that felt for them."
Celebrating Cuyler today
A park in town bears Cuyler's name and Harrisville is working to keep his memory alive. He was born in August and in August 2022, the community held a month-long celebration with help from the local library.
"Kind of the culmination was an old-timer game on Cuyler Park. Cuyler Park had been in disrepair, so the community got together and they got the field playable," Kruttlin said. "The guys that played were 50 and over, even into their late 60s. It was a blast. We're going to have another game in September [2023]. This is going to be an annual thing now."
There are just 342 members of the Baseball Hall of Fame, including 270 players. Cuyler is one of just six hall of fame players who were born in Michigan. Cuyler's transition from factory worker to baseball star was highly unusual in his playing days, but it seems even more improbable in today's era of big-money baseball.
"I think that's really his biggest legacy. Basically there's one narrative about [the other members]. It's that at a young age, they fell in love with baseball, they concentrated on it. They put in the long hours that are necessary to cultivate the abilities," author Peter Morris said.
"Cuyler went a different route and he went a different route for wonderful reasons. He got married at a young age. He had a family and he was focused on supporting them. And just a quirk of fate got him back into baseball and sparked a legendary career."
Editor's note: Quotes in this article have been edited for length and clarity. You can listen to the full interview near the top of this page.